Capital Sport name change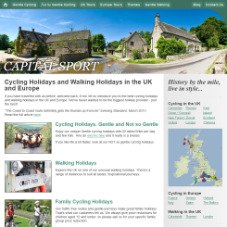 Capital Sport has changed its name to The Carter Company
We remain exactly the same team with the same ethos. And we remain dedicated to our vision to help people discover the hidden gems of Britain and Europe with our unique cycling holidays and walking tours.
Why did we decide to change our name?
The simple answer is that we wanted the way we look to give people a better idea of the quality and character of our product.
After many team chats over many cups of tea (and slices of cake!), we decided to change our name from Capital Sport to The Carter Company. This decision came as part of an overall 'rebrand' project. We have been going for over 25 years now, and after focusing most of our time and energy on creating and refining the product itself (designing the best and most unique, creative and thoughtful routes; hand-picking quality and characterful boutique hotels; researching new areas to run tours in; oiling the cogs in our internal machine to deliver a seamless customer experience and top-notch service... the list goes on!), we felt it was time to channel our energy into making sure we looked as good as we know (and our existing customers tell us) our product actually is!
So in the summer of 2013, we spent a sunny afternoon brainstorming what exactly made us special and why we are unique compared to other tour operators. We ended the day with a long list of qualities, a tagline we all agreed on - Authentic Travels by Bike and on Foot, and a new name - The Carter Company. We liked the simplicity of the name and that it told the world we are proud to be a family business, delivering excellent personal service to our customers.
Our lovely designer, Anna Ebubedike, then spent a couple of weeks beavering away, and came back with this fantastic new brand identity, including a new logo and new website design. We hope it tells you a little more about who we are and what you can expect from us. The new identity was crafted to capture the fun of exploring, a feeling of escapism, and the beauty of the countryside. It is purposefully British in look and feel; we choose a hand-rendered logo to be suggestive of our close involvement with every detail and the hand-picked nature of our trips.
We hope you like it as much as we do!