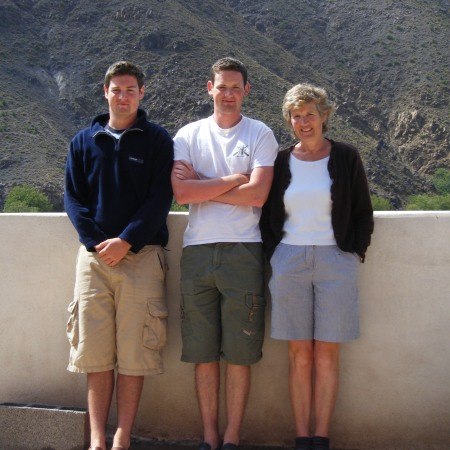 The Carter Company is the brainchild of Wendy Carter, pictured here with her two sons Ollie and Josh. Wendy is a real pioneer in the gentle cycling movement - long before cycling was trendy, she started The Carter Company with the belief that travelling by bike or on foot is the best way for a visitor to really see and experience a place.
The inspiration came after a couple of weeks of holiday with the extended family, where we explored some of Austria's beautiful lakes by bike. It dawned on us that family cycling holidays could have all the trappings of what makes skiing holidays so great - being out in the fresh air; doing an activity together; getting some light (or heavy!) exercise; getting up close & engaging with some beautiful surroundings; sampling delicious local food; and enjoying a well-earned rest in cosy and characterful hotels at the end of each day. With the luxury of time to slow down and soak in the sights and sounds of your surroundings, gentle cycling and walking holidays give people the opportunity to rediscover the fun of exploring and the joy of travelling – it's not just about the destination, it's about all those hidden gems you discover along the way!
Sure enough, the trend has caught on and there are now many companies offering cycling and walking holidays and many people wanting to take them - which is great! With two generations now working for the business, we are celebrating over 25 years of creative holiday planning.
What makes our trips that extra bit special is the incredible wealth and depth of Wendy's local knowledge. She's not called our Chief Route Designer lightly - she has meticulously researched and personally cycled or walked every single one of our holidays. If you're looking for real insider info, look no further... from the best cream teas in Devon to the most romantic boutique hotel in Scotland, Wendy is the woman to ask. Don't worry, we've written them all down! Book with us and you'll receive an Adventure Handbook alongside your route directions, which is packed full of these brilliant nuggets of information.
We hope you'll agree that our holidays offer a wonderfully unique adventure for anyone looking to get off the beaten track and see a more authentic side of the UK, Europe and S America.. As we expand our trips, we continue to stay true to our mission of creating authentic travel experiences for our customers through unique and thoughtfully designed itineraries which now include touring holidays too. We are passionate about sharing the rich history and culture of Britain, Europe and S America with our customers and are proud to deliver a friendly and top-notch personal service to everyone who travels with us.
We have a lot of fun getting to know our clients and we benefit from a delightful and enthusiastic team both at HQ and on the ground. Please do get in touch and we look forward to planning a fantastic trip for you! You can also check out our current exploits, thoughts and diversions on our blog.